Company History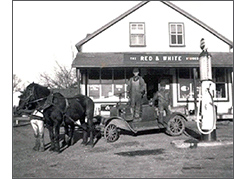 Newton Enterprises began operations in 1952 as a small country store born in the heart of the Canadian Prairies. Initially operating as a RED & WHITE store, the company expanded over the years to include hardware, building materials and construction services. By the time the second generation took the reins in 1983, Newton Enterprises was known as a premiere building materials supplier and general contractor in the RM of Portage La Prairie.
Today, Newton Enterprises is serving customers in both the public and private sectors as a leading, Manitoba-based General Construction, Design-Build and Project Management firm with projects across Canada, the United States and Japan.
Here are some highlights from our history that illustrate the growth of the company over the years:
1952
Newton Enterprises opens shop in the Red & White store in Newton Siding, MB. Jake Funk and Frank Warkentin lead the business as it grows to become a full-service lumber yard.

1983
Newton Enterprises is reorganized and the torch is passed to the next generation. The company remains family owned and operated.

1987
The first retail store is built in Portage in Portage La Prairie in the current Fountain Tire location and opens as the Do-It Centre.

1992
A new, 12,000 square foot retail store and construction offices are opened in Newton.

1995
Newton Enterprises establishes a relationship with SG Kai in Tokyo Japan. Over the next 3 years, more than 140 projects are fabricated in Newton, MB and shipped to Japan.

2002
Newton Enterprises opens Newport Design Interiors in Portage to accommodate increasing flooring sales at their Do-It Center stores.

2004
Newton Enterprises joins RONA as the first independently owned and operated RONA location in Western Canada.

2007
Newton Enterprises consolidates their retail businesses into a single location at the Portage La Prairie Shoppers Mall.

The facilities in Newton remain the head office location for the construction division.

Our Legacy
Every day, our buildings are used by airline passengers leaving on adventures or returning home to friends and family; doctors caring for patients in modern medical facilities; farmers feeding the world with crops and livestock housed in our agricultural buildings. Manufacturers are producing for market and retailers are selling their wares. Families are finding comfort and security in the homes we have built for them. That's the Newton legacy, buildings that make life better.